Oh Hi, old friends and new.
For those who are here for the first time, thank you for visiting.
When I lived in Scotland I used this page to document my eatings and cookings, travellings and gorgings.
I lost passion for this project once I returned to Australia, but having recently travelled to Bali, I thought I would diarise my eatings, as my travel posts are still my favourite to date.
So Bali...
It was never a place I thought I would visit again, after a family trip when I was about sixteen.
My memories were that of beggars, dirty beaches, KFCs that sold rice and very touchy, intrusive hawkers.
As a travel agent I would often refuse to serve those travelling to Bali. I could pick the type as well. Generally a pretty rough Coastie, looking to get messy as, buy saroungs and have a fish foot spa.
These notions were intensified with the televising of "What Really Happens In Bali". Ungh.
I was really craving a holiday though. A relaxing holiday, and two of my girlfriends had suggested a girls' trip to Bali. I submitted. I also had never done a 'girls' trip' before either, and wanted to give it a go.
The plan was simple. The girls would go before me. We would meet up after they had been there for a while in Seminyak for a 5 day escape in a Villa, then they would leave and I would spend 3 days, in an all-inclusive 5 star resort, to fully unwind... and to see if I could break the world weight-gain record.
I arrived at midnight to the Villa, where the beatiful girls had a bintang waiting for me. We chatted for a while then headed to bed.
In the morning, we got ready and headed to the Ku De Ta Hotel for breakfast. The Hotel was gorgeous and get on the beach. We started the day with cocktails, and followed with scrambled eggs with smoked salmon, capers and creme fraise on beautiful artisan bread.
So far, the food in Bali was already proving to be a wonderful surprise.
We wandered the boutiques of Seminyak, they were lovely but all seemed over-priced. Then retired to the villa for a dip and a sloth.
That afternoon we had planned to go to Potato Head, a very popular spot in Seminyak to watch the sunset.
We got into some dresses and caught a taxi. The place was absolutely swamped with people. I generally don't care for on overly-popular tourist spot, and although the spot was very lovely, and the sunset spectacular, it wasn't really my gig. Damn good cocktails tho.
After Potato Head we headed to Cafe Bali, which would become our local. This place would have been very at-home in Paddington, Teneriffe or any other trendy Brisbane suburb. It was set in a beautiful Queenslander-type property, which a diverse menu. Their food was really well priced and came out in no time at all.
photo courtesy of http://blog.eoasia.com/wp-content/uploads/2014/05/cafe-bali.jpeg
My travel companions had been here previously, and couldn't get over the tuna steak at just $8
I started with the Oriental Tuna Tartare with ginger, avocado and seseme oil (7.80) . It was so fresh and delicious. I wasn't even bothered by the mason jar... much.
For main I had mie goreng special ($4.80). God I love mie goreng. So tasty.
My companions had the tuna steak ($7.90)
The Salmon Linguini ($9)
The quesadilla ($4.90)
Everyone was incredibly happy with their meals, and this wouldn't be our last visit.
Please note, all prices are in Australian Dollars, based on conversion rate of IDR10000= AUD1
Breakfast the next day we headed to Sisterfields.
I was getting the feeling that cafes over here were very good at fulfilling need of Australian tourists. I didn't mind, they did it very, very well.
Sisterfields also had an incredible menu, we decided to go all out!
photo courtesy of thebalibible.com


I decided to go for one of my favourite things, that being eating lunch foods for breakfast. And started with the Chilled 40 degrees Salmon Salad ($14) It was absolutely extraordinary.
You may also notice a trend as to how much fish and seafood I ate on this trip!
To supplement this, I had a potato manchego cake ($3), it, also was delicious. Crispy deep-fried outside, soft, cheesy potato inside.
My companions ordered the pancakes, a chia bowl, avo on toast and polenta fries.
I finished with the fruit platter with coconut lime granita and Bavarian cream ($6.50). It was delightful.
We had some more slothing time, then I just felt the need to get out of the villa for a bit, find somewhere new.
We found a lovely little place for a cocktail, The Corner House. It was a shady little oasis.
Now as you may have noticed, food is extraordinarily good value in Seminyak. However drinks, though still cheaper than Australia, (where isn't?), are a bit more pricey. $10 for this basil, lime daiquiri. Not complaining though.
We had booked in at Motel Mexicola for dinner, which we had heard wonderful things about, and we were very excited to try.
photo courtesy of theultimatebali.com
I'm glad we did book, as it would seem this place was quite the Seminyak institution.
Their Mexican food menu looked fresh, light and delicious.
We started with a jug of margarita, as you do in when in Mexico.
Then we went to town.
Tacos
Gorgeous little tostadas
Quasadilla
I had the Ceviche Acapulco... kingfish marinated in lime with tomato, onion and corianda accompanied by corn chips ($7). Gods, this dish was heavenly. Definitely one of those dishes I could eat every day for the rest of my life!
My other super-happy-place dish, was the crab roll- Rollos de Cangrejo. This was one of the stand out dishes of my whole trip. With a texture almost like deep fried tofu but a beautiful, sweet crab flavour. YUM!
Day three was to be out "fancy ladys' day".
We had massages,treatments and pedicures booked so we opted for a light brekky, again at Cafe Bali.
Baked goods and pastries in Bali are really, very good!
Feeling all relaxed after being pampered, we made our way to the extraordinarily good Mama San.
We peeked over at the table next to us in awe. Then decided to each order what we wanted and make a buffet out of it. No one was disappointed!
One of my favourite things ever, combination dumpling noodle soup ($11). Not a great sharing item though. Oops.
Dumplings ($6.90)
Crispy Duck ($6.90)
Asian Greens
Crispy whole fish ($16)
The fish was an absolute standout and we spend maybe twenty minutes after we had finished picking every bit of flesh of his little cartilage skeleton
I even ate it's eyeball for good luck.
Absolutely stunning! I can confidently say, this was one of our eating highlights of the whole trip. Every single thing we ordered was a minimum of a 9/10. It's how I want my chinese food to be always, but never is.
Thank you so much, Mama San.
photo courtesy of zomato.com
We had found Urchin Grill and Raw Bar on Trip Advisor and it looked perfect for our fancy night out.
We started with cocktails on the deck.
This glorious restaurant was also a Gin Club, so I couldn't go past a gin martini.My companions' cocktails also looked amazing, especially the steaming one served with dry ice.
The restaurant looked such a high standard, I loved the open kitchen.
Nearly every time I go to a fine dining restaurant I order the tasting menu. An eleven course was available for around $75. But this needs to be ordered by everyone at the table, and we just couldn't agree. Fortunately, almost everything on the tasting menu was available on the entree menu. So I just created my own. I absolutely love entrees and quite often I will order an entree to start, followed by two entrees for a main. So this was simply perfect for me.
The bread was outstanding. How beautiful is the mossy salt bowl?
The first of my many courses was the urchin maki ($6). It was lovely.
My cottled egg with sea urchin and cavier ($7) was a very early on favourite for me. Absolutely intense but immaculate flavours and the presentation was simply stunning.
My third was the individual cone of tartare ($5). Also excellent.
My next round of food included the absolutely sublime steamed lobster in lobster consomme ($20). It was very sumptuous, the lobster was sweet and the variety of mushrooms were beautiful as well as wonderfully flavoured.
Also in round two was the crab lasagne ($15). Foam aside (I find foam a little useless and pretentious), this was light, but flavoursome and fresh.
My "fancy" dinner dates had opted for the sashimi and scallops to start
We loved watching the chefs do the splatter art on this plate, but wondered how many times a poor customer would end up with a big glob on their shoulder.
For my mains I had the scallops ($16.50) and the urchin fettuccine with urchin butter and caviar ($16).
The scallops were cooked perfectly. I found the cauliflower to be a little overwhelming for the subtle flavour of the scallops.
The fettuccine was simply wonderful.
For me, this was a perfect fancy night out. I loved it. And for all of my food, drinks and cocktails coming to $130 (including service and tax of 17%), was substantially cheaper than any of the fine dining I've had in Australia, the UK or Europe.
I should mention, service and tax of between 17 and 21% had to be added onto everything and was a pain in the butt.
Our next day we were off to Canggu, a spot about 40 minutes north-west of Seminyak popular with Surfers (and hippies).
We had been recommended Betelnut, and stopped in for breakfast. It was a nice, quiet, relaxing change of pace for us.
After yesterday's full-on food affair, we opted for simple. I had the rocket, tomato and cheese and bacon, corn and cheese toasted baguette. Avo on toast and acai bowls for my ladies, we all had fruit juice.
We stopped into the lovely Old Man's for a couple of drinks by the beach, before finding out we couldn't get a taxi home. We walked a couple of km's, got a little sunburnt, hailed a taxi anyway and headed back to our hometown of Seminyak.
The girls got out at Seminyak to head home to the villa. I was dying for some non-boutique, non-$80 a piece cotton dress marketed to the upper-middle Australian tourist market, so I carried on to grubby Kuta.
I'm not going to talk about Kuta, it's gross, its crass, it's full of rough Australians! Gross tattoo parlours are everywhere and the whole place stinks.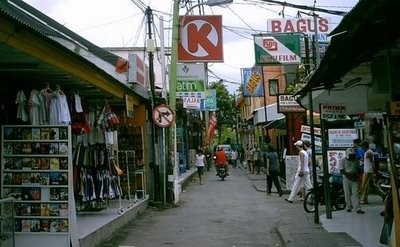 photo courtesy of annaeverywhere.com
However. I did manage to find some lovely clothes and shoes at proper Bali prices (in department stores, not tacky markets) and found a lovely spot for a cool beer and an arvo bite. Segara Seafood and Indonesian had only a few people in the whole restaurant. I had a beautiful view, and time to catch my breath over a beer and mie goreng. ($13 for both)
This was to be our last night in Seminyak, and our last night together as a trio. So it seemed fitting to spend it in what had become our club house, Cafe Bali.
I had a few too many cocktails, some prawns and more salmon and was quite sad to know it was going to the the last night with my two lovely holiday companions.
On the Friday the girls and I catch a taxi to Nusa Dua, I will create a new post of my glorious 3 days in the Sol Beach House All Inclusive by Melia.
I did love Seminyak, especially Eating Seminyak, and I can't wait to stuff myself senseless myself again, next year.